Click on any of the Tikkun Olam @GJC on-going initiatives below for a description, ways to get involved, and contact information, or scroll down to view all initiative information: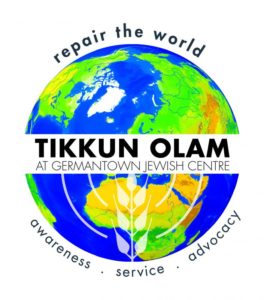 General
Fair Trade Initiative
Refugee Immigrant Justice Initiative
Awareness
Understanding and Confronting Racism
Service
Housing the Homeless: Interfaith Hospitality Network
Homeless Advocacy Project (HAP)
Story Hour at CW Henry School
Community Volunteers at Houston School
Loving the Stranger: Welcoming Refugees Through HIAS PA
Feeding the Poor with JRA
Advocacy
Pursuing Justice: POWER Interfaith Network
---
FAIR TRADE INITIATIVE
Description
Fair Trade is a way to make ethical purchasing decisions that positively impact farmers and artisans throughout the developing world. The purchase of Fair Trade Certified products support just labor practices, living wages, gender equity, environmental stewardship, health care and education for workers and their families. Fair trade certified products guarantee that child and slave labor were not used in making the products.
Educating our membership about the positive impacts of fair trade purchasing can have substantial impact on people's lives around the world. Through the purchase of commodities like Fair Trade coffee and chocolate, each of us can better align ourselves to our Jewish values.
Our goal is to increase GJC's involvement with and commitment to fair trade purchases, and to educate members about the benefits of fair trade and its connections to Jewish values. Also, we are working to insure that all coffee purchased at the synagogue is Fair Trade coffee, with the support of the Executive Board and leadership of GJC!
Involvement Opportunities
A Fair Trade group within the synagogue will prioritize, coordinate, and publicize fair trade opportunities both outside and within synagogue life, including:
Organizing events within the synagogue to educate about fair trade practices and how we can purchase fair trade items
Analyzing the impact of our purchasing to make a compelling case for fair trade purchases
Incorporating Fair Trade elements into GJC's Jewish Holiday observances
Analyzing our internal supply chain to determine if we can and how to replace conventional products with Fair Trade commodities
Working with The Little Shop to stock Fair Trade Judaica and other Fair Trade items, and encouraging our congregation to purchase them
Working with the religious school to educate children about Fair Trade and encourage them to do their projects around Fair Trade issues
Encouraging members to consider Fair Trade purchasing when planning simchahs and kiddushes
Identifying Fair Trade products available for purchase through internal communications like the Centre Call and Weekly Bulletin.
Contact Information
If you would like further information, or are interested in getting involved in this initiative, contact: Betsy Teutsch – bpteutsch@comcast.net
---
REFUGEE IMMIGRANT JUSTICE INITIATIVE
Description
Following October's Refugee Shabbat, a group of congregants launched a Tikkun Olam initiative to ensure that refugees and other immigrants are treated justly and with dignity.  Our own families' immigration experiences and the biblical imperative to remember that we "were strangers in the land of Egypt" impel us to speak and act with moral clarity.
Our group's work has three components. First, we identify and publicize humanitarian actions to fight family separations and other injustices.  Second, we are organizing groups from GJC and other area synagogues to advocate on behalf of refugees with our elected officials.  Third, we are committed to expanding direct support to immigrants in our area. While much of our work lies within each of these focus areas, we come together as a larger group to share ideas, learning and energy.
Want to get involved?
UNDERSTANDING AND CONFRONTING RACISM
Description
As Jews, we have a particular sensitivity to what it means to be an oppressed minority. Since early 2015, a group of GJC members has been planning and organizing gatherings on the topic of race. We are interested in learning about white privilege and racism, particularly towards African Americans, and its impact on our community and ourselves. We want to make GJC a comfortable place for Jews of color and we seek to become effective allies in dismantling racism in all places in our society. We offer opportunities for GJC members to actively reflect on their relationship to race, Jews' relationship to whiteness, and the relationship between racism and anti-Semitism. We want to understand how to best carry forward GJC's legacy of racial activism, exemplified by Rabbi Charry's leadership in keeping Mt. Airy a racially diverse neighborhood.
GJC's annual Granger Shabbat offers a program focused on issues of race. Recent years have featured prominent local clergy from multiple faiths in dialogue about contemporary racial issues.
Involvement Opportunities
We are considering next steps. Please be in touch if you'd like to get involved in this work.
Contact Information
For more information, or to become involved, contact David Mosenkis (dmosenkis@gmail.com) or Andi Moselle (andrea.moselle@gmail.com).
---
HOUSING THE HOMELESS: INTERFAITH HOSPITALITY NETWORK
Description
Germantown Jewish Centre is part of a network of a dozen congregations in Northwest Philadelphia that take turns hosting temporarily homeless families while they look for permanent homes. GJC hosts our overnight guests in our Religious School classrooms twice a year, for two weeks each rotation. Two GJC hosts stay in the building at all times when our guests are with us. More than 100 synagogue members are active in the program as volunteers.
This program takes place under the auspices of the Philadelphia Interfaith Hospitality Network (PIHN). PIHN provides temporary family and child-centered shelter for homeless families in the calm and comforting setting of our Northwest-area churches and synagogues, hosted by nurturing congregational volunteers. Staffed by a full-time family services director, PIHN also offers counseling and life-skills training to its many clients at its day center in Mt. Airy. Each year PIHN helps approximately 20 families transition to permanent housing and to a life of self-sufficiency, while also continuing to support alumni families that have successfully completed the program.
Involvement Opportunities
Synagogue members can get involved in this important mitzvah of hachnasat orchim – welcoming guests to our GJC home – in many ways. Volunteers can help our guests move in and out, shop, cook, serve meals, stay overnight at GJC, play with children, take our guests out to dinner. Once you let the GJC/IHN Chairperson know you would like to help, you will be added to the master list of volunteers and receive ongoing updates via email about volunteer opportunities and scheduling. Additionally, there is a dedicated synagogue fund that supports the expenses of hosting our guests. Donations to the GJC/IHN Fund are most welcome!
Contact Information
Interested in learning more? Contact Debbie Stern, the GJC/IHN chair at debstern502@msn.com or 215-848-9503.
---
HOMELESS ADVOCACY PROJECT (HAP): LEGAL HELP FOR HOMELESS FAMILIES
Description
The Homeless Advocacy Project (HAP) is a nonprofit legal aid program that provides free civil legal assistance to individuals and families in Philadelphia experiencing homelessness, or at risk of becoming homeless. HAP's goal is to remove barriers that prevent homeless people from accessing and sustaining stable and secure housing. HAP's small legal team partners with volunteer attorneys, paralegals and law students to serve approximately 3,000 people experiencing homelessness each year. HAP annually holds over 125 regularly scheduled legal clinics at shelters, transitional housing programs, soup kitchens and day centers throughout Philadelphia. Problems the homeless may face include obtaining birth certificates for their children, securing a document that enables children to spend the night with a parent outside the shelter, addressing credit report errors, or accessing education services or disability benefits for their children.
Involvement Opportunities
One of HAP's legal clinics is held at Stenton Family Manor, the largest family emergency shelter in Philadelphia, which is within 10 minutes of GJC. Synagogue members who are attorneys can participate in HAP's Stenton Family Manor legal clinics, which are scheduled to take place 4 times annually from 6 to 7 p.m. Volunteers would join a HAP attorney in staffing the one hour clinic to meet with potential clients, assess their needs and assist in resolving their legal-related problem with HAP attorney supervision and support. HAP will provide training to synagogue volunteers that includes an explanation of the shelter system, a review of HAP's intake process, the benefits and challenges of working with a homeless population and an overview of the types of legal matters generally encountered at the Stenton legal clinic.
Contact Information
For further information, contact Geanne Zelkowitz at 215.242.4861 or gzelkowitz@verizon.net.
---
STORY HOUR AT CW HENRY SCHOOL
Description
GJC members have a long history of shared activities with Henry School, our neighborhood Philadelphia public school. Many of these activities were initiated by the late Ted Levine, Renee Levine's husband.
In 2008, the GJC Social Action Committee was honored to have been chosen by the Jewish Federation of Greater Philadelphia's Center for Social Responsibility as one of the recipients of a Social Action Micro Grant. With the grant, we were able to strengthen the link between Germantown Jewish Centre and the C.W. Henry School.
Renee Levine had the wonderful idea to start a Story Hour, for grades K thru 3 students. Renee (of blessed memory) developed and ran the program until 2013.
Involvement Opportunities
Volunteers commit to ½ hour each week, pick a story and read to students in the same classroom each week. Volunteers find the experience as rewarding as do the students. Many volunteers return to read to the same classroom, year after year.
We enjoy the experience of reading library books to children. We have watched the children, listen, interact, and respond to the material in the books. The program has enriched the learning experience of the students. Listening and connecting to the content of the books promotes their leaning experience.
Contact Information
For further information, or to participate in the program, contact Maxine Margolies (mmargx@aol.com) or Sandy Meyer (sms@meyeroneagle.com).
---
COMMUNITY VOLUNTEERS AT HOUSTON SCHOOL
Description
Houston School is a Philadelphia public school, grades K-8, located at Allens and Rural Lane in West Mount Airy. The Community Volunteers at Houston School currently provide three services to children in the school during the school day.
Involvement Opportunities
One group tutors 2nd graders individually in literacy skills, primarily reading on Thursday mornings. Another group tutors 3rd graders individually in math skills on Tuesday afternoons. The tutors play an invaluable role in developing a relationship with their tutees and in assisting their students gain control of these essential subjects. A third group helps students and classes use the library on Monday, Tuesday, Thursday and Friday. Volunteers get to encourage student excitement about choosing their own books for reading.
Contact Information
For further information, contact Elayne Blender at 215-248-0413 or elayneblender@gmail.com or Barbara Bloom at 215-247-2311 or babloom@verizon.net
LOVING THE STRANGER: WELCOMING REFUGEES THROUGH HIAS PA
Description
Heartsick at the news and pictures of refugees dying and starving while fleeing Syria, Sudan, the Congo and elsewhere in the world, GJC members have joined with HIAS PA to make a meaningful difference in the lives of refugee families
HIAS PA helps refugees who come to Philadelphia with housing, furnishings, getting critical documents, obtaining social and health services, and learning English and job training. As they start a new life here, these strangers in a strange land need guides and support to help them navigate their new American life. Members of the GJC community have taken on the task of being "American Friends" to two families of refugees in Philadelphia. In our first few months, nine of us have formed a welcome team for a Syrian refugee family with acute medical crises, while another GJC member has been a friend to an Afghani couple now expecting their first child. GJC youth have volunteered in HIAS PA's summer English as a Second Language (ESOL) program, and also help out during school vacations at the HIAS PA office. Those of us who have volunteered have had opportunities to share our time, our hearts and our talents; the rewards of our efforts are immense. We have encountered people who are meeting an unimaginable series of trials with grace and dignity. We have been gifted with warmth and easy connection to the refugees we are assisting and with fellow members of our GJC community.
Involvement Opportunities
GJC members can get involved with refugees in many ways, large and small. Examples include the following:
Escort parents and children to medical appointments, dental appointments, and make sure that they have interpreters at these visits.
Visit with a family every week or two to offer help with homework and English.
Take family members on outings, such as to the Natural History Museum, to get to know Philadelphia and create learning opportunities.
Visit children's schools and provide home-school support.
Help adults in finding employment.
Contact Information
Naomi Klayman (research@naomiklayman.com), Sarah Braun (sarahjbraun@gmail.com), or Maxine Margolies (mmargx@aol.com)
---
FEEDING THE POOR WITH JRA
Description
The GJC Mens' Club supports the Jewish Relief Agency by volunteering at JRA's monthly food distributions. On the second or third Sunday of the month, volunteers of all ages and backgrounds meet as a community at JRA's northeast Philadelphia warehouse (10980 Dutton Road, adjacent to the NE Airport). Volunteers pack over 3000 boxes with fresh produce and non-perishable food, and deliver food and a smile into the homes of those at or near the poverty level, many of whom live in apartments in the Northeast not far from the warehouse. All recipients depend on these food deliveries, especially the elderly of whom there are many. Participants meet at the JRA warehouse at 8:30AM, and help in the setup and packing of boxes and then make deliveries. Volunteers may participate in all or part of these activities. All work is completed by 1:00PM.
The complete calendar of JRA's distributions may be found on JRA's website.
Contact Information
For more information or to volunteer, please contact Dick Menin(menin1911@comcast.net) Jim Meyer (jrm@meyeroneagle.com).
---
PURSUING JUSTICE: POWER INTERFAITH NETWORK
Description
GJC is a member of the POWER Interfaith Network. POWER is a non-profit, non-partisan coalition of over sixty local congregations in Philadelphia and its suburbs working on justice issues in our region. POWER intentionally brings people together across the lines of race, faith, income level and neighborhood. The organization also collaborates with similar faith-based coalitions in other parts of the state to achieve greater impact statewide on issues such as education funding. POWER connects GJC with the larger interfaith community working for justice in our area and provides a framework for ongoing sustainable advocacy for social change at a community-wide level.
Member congregations work together to determine the organization's priorities and strategies. Currently, POWER has the following areas of focus:
EDUCATION – The education strategy team works to improve the quality of public schools to meet the needs of ALL children in Philadelphia and across the state. This includes work on the state level to advocate for full fair funding as well as local work at the community level to improve local schools. POWER was instrumental in exposing racial bias in Pennsylvania's current school funding, and in getting the state legislature to create a fair formula for distributing education funding. Ongoing work includes advocating for fuller implementation of the fair formula, and for increasing the state's share of education funding.
ECONOMIC DIGNITY-This team works on issues related to jobs and living wage. POWER members have supported employees at several local places of employment in their fight for better wages and working conditions. POWER played a key role in securing increased wages and benefits for workers at the Philadelphia airport and for other city-subcontracted workers. The group also held a Poverty Summit to share research on poverty in Philadelphia and craft action plans to address the issue.
The Green Jobs subcommittee is working on the intersection of race, the economy, and climate. They are interested in bringing renewable energy, especially solar energy and the jobs that come with it to low income neighborhoods. The group will also be working on the issue of how are some people and places are treated as sacrifice zones for toxic environmental conditions.
LIVE FREE (MASS INCARCERATION) – This team works on issues related to racial inequities in the criminal justice system. The Team is currently conducting research meetings to hear from people who have been affected by the criminal justice system as well as those who work within it. The group is examining how issues like stop and frisk and bail reform affect communities of color and the Muslim community in Philadelphia and what can be done to make changes.
Health Care for All – As people of faith, we cannot stand by as our people die preventable deaths, as families struggle to pay insurance premiums and as millions remain uninsured. And we cannot accept the continued attacks Medicaid and Medicare, coverage that is working for many Pennsylvanians, at the state and national level. At POWER we see healthcare as a moral issue, not as a commodity or a partisan issue as it is treated in the government and media. We envision an America where no one needs to worry about insurance coverage or access to care–where health care is recognized as a human right. Currently, we are fighting plans to slash Medicare, Medicaid and ACA protections. All our faith traditions and holy texts call us to care for one another as we would ourselves, and to respect the sanctity of life. We are putting our faith into action as we imagine a system that serves ALL of us, and as we hold our representatives accountable to build a just health care system for all.
Involvement Opportunities
Get on the POWER email list by clicking here.
Consider attending one of the monthly city-wide POWER Action Teams meetings.
More at the POWER web site: http://powerinterfaith.org
GJC Contact Information
For more information, or to become involved, contact Andi Moselle (andrea.moselle@gmail.com) or David Mosenkis (dmosenkis@gmail.com).