Sitting at the intersection of tradition, innovation, and community, the Religious School at GJC is committed to educating a new generation of kids for our evolving Jewish world. Our program urges students to get curious about their Judaism and integrates cutting edge teaching methods like Hebrew Through Movement. As they learn and explore, students build confidence in their knowledge and connection to our tradition, competency in prayer and ritual skills, and a strong sense of Jewish identity and connection.
5780 Religious School Calendar
To learn more about the Religious School @ GJC, you can reach out to our Education Director Ben Rotenberg, RS Committee Chairs Alex Molot and Greg Lattanzi, or find (and LIKE us) on Facebook.
"There is a lot of energy at GJC, especially when the Religious School is in session. I have two children at Perelman Jewish Day School, and one in the GJC Religious School, and I am very pleased with the progress they are making. The teachers are knowledgeable, sensitive and enthusiastic and they engage the kids in hands-on activities. Most importantly, my children are enjoying learning about Judaism."

-Chip Becker, Religious School parent
GJC Religious School Days and Hours
GAN & ALEF (Kindergarten & Grade 1)
Sundays, 9:30am-12:30pm
BET – VAV (Grades 2 – 6)
Sundays, 9:30am-12:30pm
AND Wednesdays, 4:00-6:00pm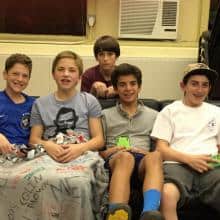 ZAYIN (Grade 7)
Sundays, 9:30am-12:30pm
AND Tuesdays, 7:00-9:00pm
T2 ~ TeenTuesdays (Grades 8 – 10)
Tuesdays, 7:00-9:00pm