Those in the market for creative Judaica are discovering there is no better selection or value to be found than that at GJC's Little Shop. Shop for wedding gifts, b'nei mitzvah, holiday and ritual items, heirlooms and collectibles, or stock up on kosher wine and Jewish cookbooks.
Stop by during our regular hours or make an appointment with Marcy (215-247-8118) or Connie (215-248-0309). We provide outstanding service with a smile. And, most importantly, all our profits go to the synagogue.
Managers: Marcy Bacine, Connie Katz & Leslie Pontz
215-844-1507, Ext. 21
littleshop@germantownjewishcentre.org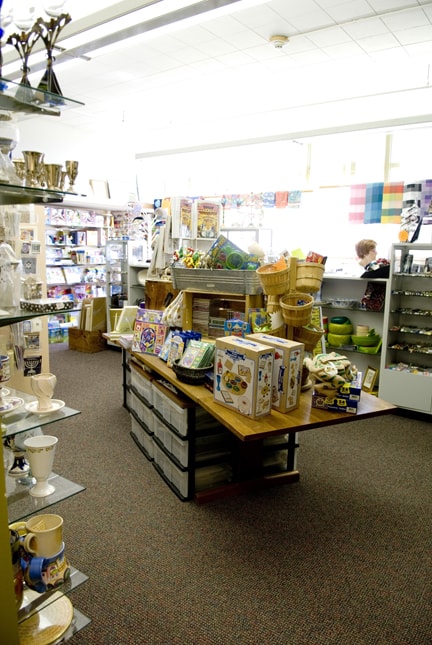 All giftware is discounted 10% except books and wine. Many ceremonial items are sold close to cost.
The shop has a wide array of Judaica and prides itself on its artistic collections of mezuzot, tzedakah boxes, kiddush cups, candlesticks, dreidels, ketubot, and tallitot.
Ritual items can be found in both traditional and contemporary designs crafted by such well-known American and Israeli artists as Danny Azoulay, Gary Rosenthal, Leona Fein, Gloria Nelson, Reeva, Eretz, Betsy Teutsch, Mickey Caspi, Arthur and Wendy Silver, and many others.
A selection of moderately priced invitations is available and we maintain a registry for lifecycle events such a baby namings, b'nai mitzvah, and weddings.
Every Jewish holiday is underscored by a thoughtful selection of giftware to help make its celebration all the more festive.
Little Shop Regular Hours
| | |
| --- | --- |
| Day | Time |
| Monday | Closed |
| Tuesday | Closed |
| Wednesday | 12-7:30 PM |
| Thursday | 12-5 PM |
| Friday | 12-5 PM |
| Saturday | Closed |
| Sunday | 9 AM-12:30 PM |
Little Shop Summer Hours
Please contact Marcy Bacine at 215.247.8118 to make an appointment if our reduced summer hours are not convenient for you. Our Summer hours are Wednesdays and Fridays from 12-5 PM, beginning in June and through Labor Day Weekend.
| | |
| --- | --- |
| Day | Time |
| Monday | Closed |
| Tuesday | Closed |
| Wednesday | 12-5:00 PM |
| Thursday | Closed |
| Friday | 12-5:00 PM |
| Saturday | Closed |
| Sunday | Closed |