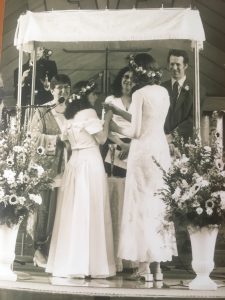 Malkah Binah and Neysa
Photo: Wedding at Germantown Jewish Centre, 2002
We didn't really see ourselves as pioneers as much as being in the right place at the right time, blessed with many wonderful mentors who had lit the path ahead of us.  Neysa had been an active member of the Atlanta GLBT synagogue, Congregation Bet Haverim, before moving to Pennsylvania.  Malkah Binah was a student at RRC, and while she was not fully "out" when she began her rabbinical studies at RRC in 1999, she moved to Philadelphia knowing that RRC would be a place that would embrace her as she came out. Malkah Binah's dear friends from rabbinical school, Miriam and Mike, had celebrated their wedding at GJC in 2000, and she loved the flow of their wedding, from the ceremony in the Charry Sanctuary up to the Marcus for lunch and… read more here.
Yoel and Matthew
GJC has been a part of our family life for 15 years. Even before we moved to Philly in 2009, we made time to attend services with Minyan Masorti whenever we came to town to visit family. Our minyan and the wider GJC community have also been a source of support and affirmation as Yoel transitioned gender.  Especially meaningful was Simchat Torah 2011, when he was called to the Torah for the first time as Yoel, not Yocheved, and participating with our dear friend Leiah Moser as speakers for Dorshei Derech's 2012 Stefan Presser Memorial Shabbat: Transgender Jews: Moving Toward the Blessing of Inclusion. GJC religious school has also been a place of learning, nurturing, and fun for our children, and does an outstanding job of collaborating with us to ensure that our sons, who are on the autism spectrum, have a rich and meaningful religious school experience.
Doug and Ken
Photo: Wedding at Germantown Jewish Centre, 2014
We have been members of GJC [since 2008], and in that time we've been active with both the Masorti and Dorshei Derekh minyanim.  Both of us deeply appreciate being part of such a welcoming and diverse community, and we're especially appreciative of our dynamic Rabbi Adam Zeff, who married us in 2014 and is a continuing inspiration in our lives and our spiritual journeys. Whenever we walk into GJC, we know we're home.