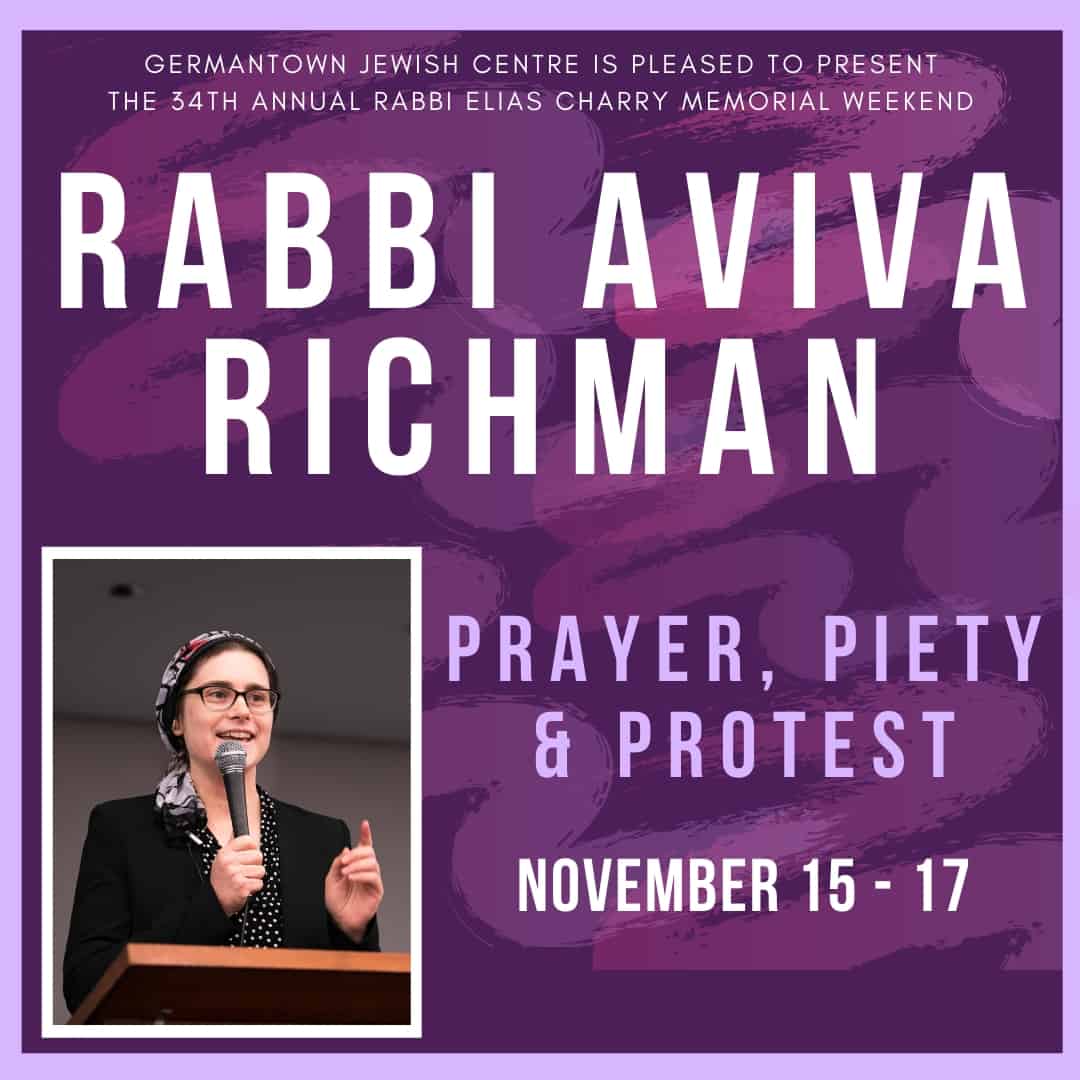 In what ways can prayer and acts of piety be radically transformative? How can marginalized voices in our tradition, such as women's voices, help us wed our critique and devotion, and reclaim pious practices that seem alienating or trivial? We will delve into multiple genres of Jewish texts, from Talmud to Yiddish prayers, in order to reexamine "traditional" notions of prayer and piety as constructive forms of daily protest. Sessions will be focused on written texts, but we will also engage some with singing niggunim as one mode of prayer and protest. Join us for Germantown Jewish Centre's 34th annual Rabbi Elias Charry Memorial Scholar-in-Residence Weekend!
Please join us in welcoming Rabbi Aviva Richman November 15 through November 17 as this year's Rabbi Elias Charry Memorial Scholar-in-Residence. Rabbi Richman is on the faculty at Hadar Institute in NYC, where she teaches Talmud and other Jewish texts.  A native of Baltimore, her Jewish roots include a liberal Havurah and a hassidic shtibl.  After her undergraduate work in Jewish studies and feminism at Oberlin College, she went on to pursue private ordination with Rabbi Danny Landes in Jerusalem, and is finishing a doctorate in rabbinic literature at NYU.  Rabbi Richman has taught on Talmud, gender and Judaism across North America. In addition to studying words of Torah, she loves to bring niggunim to life through song and piano.
FRIDAY, NOVEMBER 15:  SINGING THROUGH CHAOS
Join us at 6:00 PM for Kol Zimrah, then come to a potluck and program (beginning approximately at 7:15 PM) where we will jump into a mysterious story in the Talmud to probe how sacred song can hold our hopes, fears, and determination to do God's work in the world. This session will include learning a melody.  CLICK HERE TO REGISTER FOR THE POTLUCK
SATURDAY, NOVEMBER 16
AUDACITY OF PRAYER AND THE NOT SO SILENT AMIDAH

9:30 AM Joint service with d'var Torah by Rabbi Aviva Richman in the Charry Sanctuary

EARLY MODERN WOMEN RE-READ THE BINDING OF ISAAC

Kiddush Lunch & Afternoon Program in the Marcus Auditorium following the service:  Through the underappreciated words of 18th century women's Yiddish prayers, we will revisit the meaning of the binding of Isaac. What kind of model do these women present for turning our voices of critique into pious practice?
SUNDAY, NOVEMBER 17: BEYOND CHARITY: DOING CHESED, CREATING THE WORLD
Join Rabbi Aviva Richman at 10:00 AM in the Maslow Auditorium to study excerpts of Rabbi Yitzhak Hunter's essays that weave together classical rabbinic texts along with modern philosophy and creatively re-imagine the meaning, challenge and power of chesed. This workshop is $18 (scholarships available upon request to program@germantownjewishcentre.org).  REGISTER FOR THE SUNDAY WORKSHOP HERE
Each year Germantown Jewish Centre dedicates a Shabbat to celebrating the life and legacy of Rabbi Elias Charry. Rabbi Charry served as the Centre's religious leader from 1942-1973. His commitment to social justice and to the well-being of West Mt. Airy, combined with his personal involvement with our members, earned him the love and respect of the congregation and the community.  Committed to a progressive approach to Conservative Judaism, Rabbi Charry was an early champion of women's rights, and he supported women's full participation in prayer. Our congregation's desire for diversity in prayer experiences was realized under Rabbi Charry's leadership.  Continued Jewish learning was Rabbi Charry's compelling interest.  He spearheaded innovations in Jewish education, working to create our Adult Education Institute and co-founding Akiba Hebrew Academy (now Jack M. Barrack Hebrew Academy).   Rabbi Charry was steadfast in his resolve that GJC remain in Mt. Airy.  He is credited as one of the leaders who helped maintain Mt. Airy as a vibrant, multi-cultural community and as a center of Jewish life.  Rabbi Elias Charry was a dedicated and inspiring teacher who believed that study of Torah and its truth resulted in an augmented humanism, a stronger identification with Judaism, and a dedication to the continued growth and existence of the State of Israel.