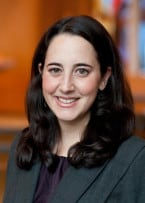 Our Torah portion tells the story of the birth of Noah and the special meaning of the name he is given. When Noah is born his father Lamech chooses his name, which means rest or relief, explaining, "This one will provide us with relief from our work and from the toil of our hands, out of the very soil that the Divine placed under a curse." (Genesis 5:28). Midrash teaches that with the birth of Noah, humanity receives the tools we need to produce food from the thorny earth. The arrival of Noah in the world helps to ease the burdens of others.
This week, as we revisit the story of Noah, I find myself aware of the many hardships we face as human beings and I am filled with a longing for relief. The news is flooded with frightening stories and it can be hard to figure out how to stand in solidarity with those who are suffering around the world. The past few months I have been heartbroken at the loss of life from the Ebola outbreak in Liberia, Sierra Leone and Guinea. At the same time, I find solace in the efforts of those who, in the spirit of Noah, are showing up to provide others with care, calm and relief.
AJWS (American Jewish World Service) has been supporting the work of grassroots organizations in Liberia to stop the spread of the Ebola virus and to dispel misinformation. One such organization called GRASS (Grassroots Agency for Social Services), pictured to the left, held a training this fall to strengthen the capacity of communities to prevent the transmission of Ebola and to cope in the face of loss. This Shabbat, as people in West Africa, the U.S. and around the world pray for respite from fear and pain, may God grant us the right combination of courage, caution and compassion. May human beings, gifted with creativity, continue to develop the tools we need to bring relief and healing to one another.