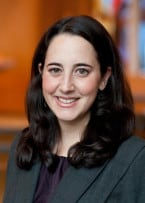 This past week, I was inspired to read Rabbi Zeff's reflections about his participation in a gathering of Israeli Druze, Muslim, Christian and Jewish religious leaders in the Arab village of Ibillin. He spoke about the power each one of us has to make a difference through small acts of hope and peace in the face of despair and violence.
Meanwhile, in Philadelphia I had the blessing of offering a prayer alongside Christian clergy of color and other rabbis as part of a POWER action outside Lincoln Financial Field on Sunday night. We stood together along with members of the Philadelphia faith community, including members of GJC, to say that the lives of men and women of color matter and that all lives are holy. We stood together to bring awareness to ongoing work for racial justice, educational equity and economic dignity that our congregations have been involved with in recent months.
It seemed fitting that this week in Philadelphia, Susannah Heschel, the daughter of Rabbi Abraham Joshua Heschel z'l, met with the Board of Rabbis and shared an excerpt of her father's writing from a lecture he gave at Union Theological Seminary in 1965 entitled, "No Religion is an Island." As we move into Shabbat, I offer Heschel's words about the urgency of building relationships with those of other faith traditions and the potential for what we might accomplish together.
"What, then, is the purpose of interreligious cooperation? It is neither to flatter nor to refute one another, but to help one another; to share insight and learning, to cooperate in academic ventures on the highest scholarly level and, what is even more important, to search in the wilderness for wellsprings of devotion, for treasures of stillness, for the power of love and care for man. What is urgently needed are ways of helping one another in the terrible predicament of here and now by the courage to believe that the word of the Lord endures forever as well as here and now; to cooperate in trying to bring about a resurrection of sensitivity, a revival of conscience; to keep alive the divine sparks in our souls, to nurture openness to the spirit of the Psalms, reverence for the words of the prophets, and faithfulness to the Living God." 
In relationship with one another, may we know our power to bring peace and healing in the United States, in Israel and in our world.