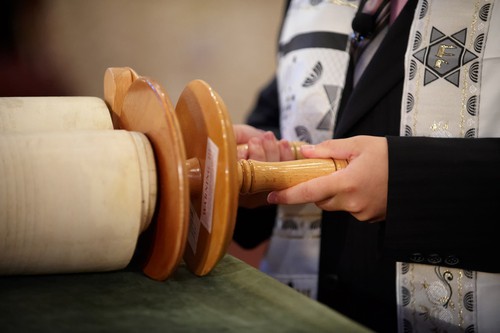 This Shabbat, we will complete the Book of Vayikra. At the moment in our service when we conclude one of the five books of Torah, we have a custom of reciting, "Hazak, Hazak, v'Nithazek – Be strong, be strong, and may we strengthen one another." While this custom has taken many forms in Ashkenazi and Sephardi communities over the generations, there is a shared understanding of Torah as a source of strength.
A number of commentators link this custom to a midrash given in the name of Rabbi Shimon bar Yochai. He teaches that when Joshua received revelation from the Holy One of blessing, God found Joshua sitting and holding the Book of Deuteronomy in his hand. God said to Joshua, "Hazak v'Ematz – Be strong, and be of good courage, Joshua; This book of the Torah shall not depart from your mouth." (Genesis Rabbah 6:18).
The Torah is a source of strength, and it takes courage to hold onto the wisdom of the Torah in each generation as the world changes around us. In order to both transmit the ancient teachings of our Torah and open ourselves up to new understandings, we need great strength. Soon we will celebrate Shavuot and the giving of Torah on Mt. Sinai. As we prepare for revelation, as we root ourselves on this earth and stretch our hearts toward the heavens, we may we be strong and may we strengthen one another.