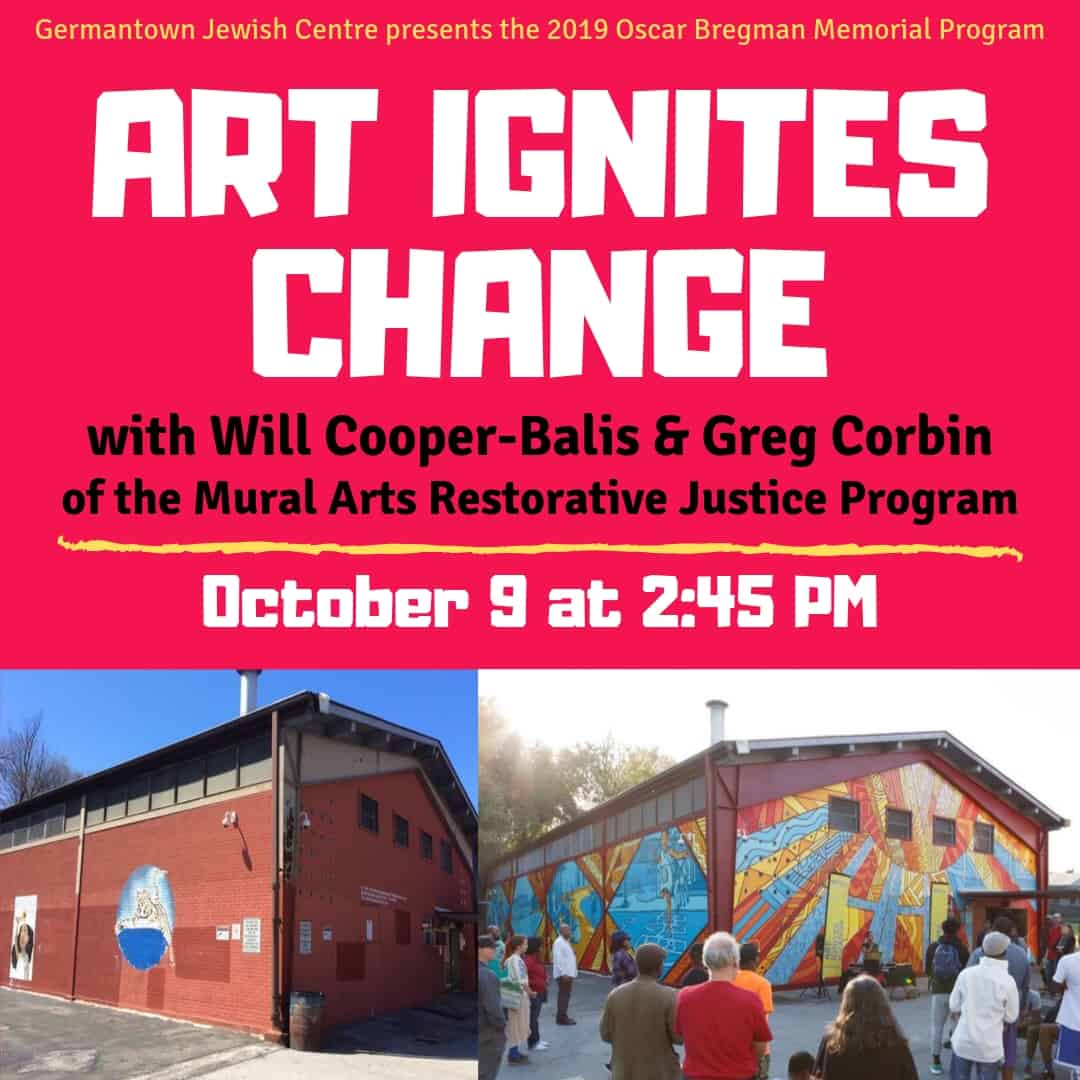 Germantown Jewish Centre is pleased to welcome Will Cooper-Balis and Greg Corbin for this year's Oscar Bregman Memorial Program. Join us in the Charry Sanctuary at 2:45 PM on October 9 as staff members from Mural Arts Philadelphia's Restorative Justice Program share some of their best practices in supporting justice-involved youth, as well as strategies to better connect them to their communities through the power of art.
Will Cooper-Balis has been the job developer and licensed social worker for the Mural Arts Restorative Justice program, also referred to as the Guild, for the past five years. The Guild is comprised of young men and women who are either currently incarcerated or on high risk probation, who take part in community revitalization efforts and the painting of murals throughout Philadelphia. Prior to his work with Mural Arts, Will was a graduate intern in the Goldring Reentry Initiative (GRI), where he assisted incarcerated clients with their reentry into the community and developed problem-posing groups for men incarcerated at the Cambria Community Center. Prior to his graduate studies, Will attended the University of Maryland, Baltimore County, where he worked as an intern in an intensive inpatient facility for individuals with co-occurring disorders.
Philadelphian Greg Corbin is an educator, poet, storyteller, writer, healer, imagination activist, hip hop head, and advocate of mental health. A Lincoln University grad with 20 years of experience in education, arts, and human development, he strives to innovate and create strategies that amplify holistic community engagement. He is the founder of the Philly Youth Poetry Movement and cofounder of the Slam League. Greg works with schools as a professional development consultant and coach with a focus in human centered social justice, race, equity and cultural relative practices. He has been a keynote speaker/presenter at conferences and festivals across the globe. He has shared stages with Nikki Giovanni, Sonia Sanchez, The Roots, Mos Def, Common and others. He has also been featured on HBO, BET, CNN and Ted Talks. He believes the voices of all generations can unlock the lessons of the past and keys to a brighter future.
Sponsored by an endowment established in memory of Oscar Bregman.