Hear Our Voices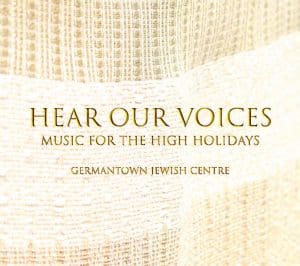 At Germantown Jewish Centre on the High Holidays, we join together to reflect on the past year, examine our hearts, and set intentions for the year to come. Music is one of the vehicles through which we express our memories and our hopes in the rich language of Jewish tradition. We raise our voices to reach out to each other and to a power beyond ourselves for compassion, strength, and resolve. The Germantown Jewish Centre Choir is an all-volunteer group of singers who have collectively devoted many years to learning a special repertoire that fits our communal endeavor, and they inspire our congregation each year to listen, to reflect, and to open their mouths and sing along. This album is intended to allow you to come into this experience with us, to listen to this music as preparation in the month of Elul, as inspiration during the Days of Awe, and as a reminder of those days after they have passed. Wherever you are on your journey, we hope that this music will be of help to you through the New Year and beyond.
Click Here to Purchase the CD from GJC 
Click Here to Listen on YouTube
1 Hamol 'Al Ma'asecha: Have mercy on your creations/Traditional (as sung by Noah Schall)
2 U'netaneh Tokef: The sacred power of this day/Max Janowski (used by permission)
3 K'vakarat: As sheep passing under the staff/Howard Gamble (used by permission)
4 B'Rosh Ha-Shanah: Who will live and who will die?/Traditional + Max Janowski (used by permission)
5 Aleinu: We bow before you/Traditional
6 Zacharti Lach: I remember the love of your youth/Traditional
7 Kolot Uvrakim: Thunder, lightning, and the shofar/Rabbi Adam Zeff
8 Sim Shalom: Grant us peace/Max Janowski (used by permission)
9 Ana Elech: Where can I flee from your spirit?/Rabbi Adam Zeff
10 Kol Nidrei: May all our vows be annulled/Rabbi Adam Zeff
11 Yah Ana: Where can I find you?/Rabbi Adam Zeff
12 Ana Tavo: May our prayer come before you/Rabbi Adam Zeff
13 Mah Adam: What is a human being?/Rabbi Adam Zeff
14 Yahbi'einu Tzel Yado: Shelter us in your shadow/Traditional
15 Avinu Malkeinu: Hear our voices/Max Janowski (used by permission)
Soloists: Nina Peskin and Rabbi Adam Zeff
Germantown Jewish Centre Choir:  
Debbie Aron, Caren Borowsky, Eleanor Brownstein, Steve Corsover, Nan Daniels, Quinn Donover, Sandra Donover, Lynne Ellis, Nini Engel, Ari Feinberg, Helen Feinberg, Janet Filante, Mitch Hirsch, Ed Lake, Beth Rosenbaum, Selma Schlee, Chuck Schleifer, Martha Schleifer, Ken Weiss, Esther Wiesner
All music arranged and conducted by Rabbi Adam Zeff
Recorded and mixed at Rittenhouse Soundworks, Philadelphia
Recording and mixing engineer: Michael Cumming
Mastered by Peter Humphreys at Masterworks
Torah Mantle Photography by Susan Pardys
Design by Kate Lawn
© 2019 Germantown Jewish Centre
We are immensely grateful to Judge Harold Berger, who conceived of this project and made it possible through his generous financial support, believing that this music could inspire a wider audience. We are also very thankful for the Germantown Jewish Centre community, whose voices and prayers inspire us at the High Holidays and all year long.