G'VANIM – The Hebrew root suggests both "hues" and "diversity" – was formed at Germantown Jewish Centre in order to give expression to the immense variety of Jewish music from around the world, to use that music to deepen the spiritual journey of those around us, and to spread a vision of Jewish life that celebrates diversity of all kinds. Our lyrics range from ancient Aramaic poetry to Arabic folk traditions to modern Hebrew and Spanish. Our tunes come from Iraq, Spain, Poland, the U.S., Israel, and everywhere in between.
G'VANIM
Rabbi Adam Zeff: Vocals, Oud
Nina Peskin: Vocals
Mikael Elsila: Piano
Elliott Seif: Accordion
Cheryl Bettigole: Clarinet
Hoagy Wing: Drum Set, Doumbek
Justin Fink: Upright Bass
Dan Berman: Acoustic Bass Guitar
SINGING BEFORE THE GATES
Drawing on a thousand-year-old tradition of singing to engage the soul, these Jewish songs and chants in Hebrew, Aramaic, & Yiddish from around the world help open our hearts to the spiritual work of reinventing ourselves as we approach the New Year.  They bring us to the place of contemplation and introspection that we need in order to take stock of the past and turn toward the future.  We imagine the gates of repentance and transformation opening before us, inviting us to enter, to remake our lives, to live out our highest ideals.  Whoever you are, and wherever you are going, may this music help you along your path through the gates.
Click Here to Purchase the CD from GJC
Click Here to Purchase from iTunes  
Click Here to Listen on YouTube
Ben Adam Human, why are you asleep?  Rise and seek forgiveness. Anonymous/Sephardic
Rahum v'Hanun I The Holy One is compassionate and gracious, kind and forgiving. Exodus 34/Iraq
Shnireleh Pereleh Levi Yitzchok of Berditchev/Eastern Europe May redemption come for us this year.
Agadelcha Rabbi Abraham Ibn Ezra/Mordechai Halfon We glorify the Holy One by living exalted, holy lives.
Adon ha-S'lihot Anonymous/Syria Master of forgiveness, we have sinned before you.  Have mercy on us!
Shomer Yisrael Anonymous/Iraq Guardian of Israel, gather us together in singing and rejoicing.
Rahum v'Hanun II Instrumental 
Mi-ma'amakim Psalm 130/Rabbi Adam Zeff From the depths I call to you.  Hear my voice!
Rahamana d'anei Yom Kippur liturgy/Hasidic Merciful One, who answers the broken-hearted, answer us!
Sh'ma Koleinu Yom Kippur liturgy/Rabbi Adam Zeff Hear our voices.  Show us kindness and compassion.
Shomer Yisrael Yom Kippur liturgy/Eastern Europe May those who call you "One" and "Holy" never be lost.
Rahum v'Hanun III
Ahat Sha'alti Psalm 27/adapted by Brian Yosef Schachter-Brooks Only one thing I ask of you – that I may dwell in your house all the days of my life.
ACKNOWLEDGEMENTS
We are so grateful for the generosity of the donors who made this recording possible, who believed in the idea that this music could provide a new path for connection: Judge Harold Berger, Ramy Djerassi, and Monica Djerassi
Thanks to:
Jim Hamilton and Rittenhouse Soundworks
Michael Cumming, Recording Engineer
Peter Tramo, Mixing Engineer
Mastering by Peter Humphreys at Masterwork
Cover photo by Zeke Zeff
The Germantown Jewish Centre community for its support and encouragement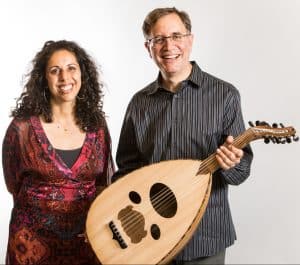 © 2017 G'vanim