There are lots of ways to get involved, and we are always open to hearing your thoughts and ideas about how you would like to participate. If in your schedule there is time to share yourself and your interests, please arrange to do so with the teachers. If you sing, dance, paint, tell stories, or just enjoy being with the kids…WELCOME! You will value the opportunity to get to know other parents and to contribute to your child's "home away from home," and your children will appreciate your participation. There are a number of ways you can get involved.
The Early Childhood Parent Committee
The Early Childhood Program Parent Committee functions as a parent-teacher association. The Committee's chairpersons work in close collaboration with the ECP Director. Parent Committee meetings are scheduled and publicized well in advance, and all are welcome to attend.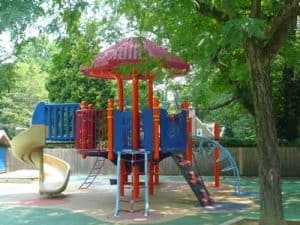 The Committee coordinates many activities and is always looking for more volunteers. The Committee is also interested in how the program and other parents can support you and your family. Committee members contact new families to welcome them to the ECP, assist with the orientation and educational activities for parents, and help organize holiday and other potluck family meals. The goal is to have all parents involved in the program in some way. Be assured that your talents will be put to good use! Can you coordinate a fundraising event or holiday celebration? Be a class parent? Host a potluck meal? Help spruce up the classrooms? Repair equipment? Other ideas?
The ECP Committee chairpersons have a mailbox in the ECP office. The Committee is eager to take full advantage of your skills and interests, so please let the chairpersons know how you would like to contribute and what ideas you have for enhancing the program. Watch for notices of upcoming meetings, and join in!
Work Parties
It is a custom for parents to help repair toys, books, and classroom furniture and furnishings. We hold fix-up days several times a year, usually on Sundays. Information on dates and projects will be left in your child's cubby. We count on your participation on those days to help make your child's school home a pleasant place to be. If you have particular skills or talents, please let the Director know as soon as you can.
Early Childhood Program Fund
Individuals may make donations to this special synagogue fund, which is used to purchase books, supplies, and equipment not allotted in the budget. Special donations may be made to the Early Childhood Program Fund at any time by giving a check to the synagogue office with a notice of the donors, the reason for the donation, and the address to which an acknowledgment should be sent. A note from the synagogue will acknowledge your contribution. Cards can be sent to family, friends, or colleagues in honor of a person or an event or for any reason you choose.