We strive to support each other in times of joy, pain, grief, and healing. In addition to our clergy, who provide ongoing pastoral support to the congregation, the GJC Pastoral Care Team, made up of volunteer members, offers additional support to our community. From making calls to fellow congregants to organizing and facilitating support groups, and supporting our clergy with end of life care rituals and services, our volunteer team members help us embody Germantown Jewish Centre's core value of kehillah (community). We lift each other up and join together as we navigate the paths on which we journey.
PLEASE NOTE: Links to register for support groups are not posted here. Rather, daily and weekly schedules with links are emailed to our member listserv. If you are not a GJC member but would like to register for a support group, please contact Rabbi Rebecca Richman at beitmidrash@germantownjewishcentre.org.
Support Groups
We are proud to offer a number of support groups, meant to bring together members with shared situations, challenges, and connections. Please sign up for any groups that you are interested in joining. If you would like to learn more or are interested in leading a support group, please contact Genie Ravital: geniebud@gmail.com.  Check back here in August for new fall offerings!
Support Group for People Living Alone
Every other Monday, 7:00-8:00 PM – please check calendar.
Facilitated by Andrea Jacobs
The challenges and opportunities of living alone have rarely been so profound. Join us to create a community of support and exploration through conversation, creative expression, and witness. Andrea has a background in peer support group facilitation and coaching. She uses arts, movement, and music for healing and creating positive change in her life and her work. If you are interested in joining this group, please reach out to facilitator Andrea Jacobs: andreamj09@gmail.com.

Nonprofit Leader's COVID-19 Support Group
Every other Tuesday, 7:30-8:30 PM
Facilitated by Adina Abramowitz, President, Consulting for Change
A support group for leaders of nonprofits. Leaders include Executive Directors, Program Managers, Financial Managers, and anyone who manages people and/or budgets. Adina has provided consulting and executive coaching to nonprofit organizations and their leaders since 1997. Her practice focused on community development organizations and she provides a variety of management consulting services including strategic planning, market analysis, and executive coaching.

Just Because
Thursdays, 11:30-12:30 PM
Facilitated by Sandi Cohen and Merle Savedow
If you don't fit into any of the support groups currently being offered by GJC, and you are looking for spiritual support during this difficult time, let us come together and share! Sandi Cohen has a Doctorate in clinical Social Work. For over 25 years she has offered Spiritual Companionship at two Jewish seminaries. Her website is eldertoelder.com. Merle N. Savedow is a retired Teacher and Reading Specialist and life-long member of GJC.
Parenting and Caring for Teens During COVID
Thursdays, 1:00-2:00 PM

Facilitated by Ann Itzkowitz, MA and Richard S. Stern, PhD
A support group for sharing stories and strategies about the joys and challenges of parenting and caring for adolescents when spending so much time at home. We'll explore the challenges of work versus family life boundaries, discipline, family fun and activities, chores, moods, emotional climate, and more. Ann Itzkowitz, MA, is a licensed psychologist and marriage and family therapist with 50 years of therapeutic experience working with children, adolescents, and adults in individual, couples and family therapy. Richard S. Stern, Ph.D. is a licensed clinical psychologist with over 25 years of experience serving children, adolescents, young adults, and families. He has lectured widely on attachment-based and emotion-focused treatment, men's issues; and Jewish identity.

Facing Job Loss or Financial Insecurity
Thursdays, 10:00-11:00 AM
Facilitated by Martha Millison, LCSW and Rabbi Elyse Wechterman
We are here to support one another through the challenges presented by job loss and transition. This is a gently facilitated conversation among peers. Martha Millison, a longtime member of GJC, is a Licensed Clinical Social Worker with over 20 years of experience working with children and families. She is currently the school counselor at Green Woods Charter School. Rabbi Elyse Wechterman is the Executive Director of the Reconstructionist Rabbinical Association and served as a pulpit rabbi for 13 years in Attleboro, MA.  She is a graduate of the RRC (2000).
So You Miss Your Grandchildren? – currently on hiatus

Facilitated by Sandi Cohen and Rabbi George Stern
This group will bring grandparents and great-grandparents together to support one another and talk about how they're feeling as the pandemic separates them from their grandchildren. We'll share what we've done to maintain contact and what resources we've used, and brainstorm new creative ideas. George Stern is a retired rabbi and nonprofit leader. He serves on GJC's Tikkun Olam Coordinating Team. He's the proud grandfather of two wonderful girls. Sandi Cohen has a Doctorate in clinical Social Work. For over 25 years she has offered Spiritual Companionship at two Jewish seminaries. Her website is eldertoelder.com. She is the grateful grandma of 15 and great-grandma of 8, the youngest born in early May.
Healing Ourselves: A Group for People with Medical Challenges – currently on hiatus

Facilitated by Rabbi Fredi Cooper, EdD and Irene McHenry, PhD
Support group for GJC congregants who have health conditions that make them feel especially vulnerable during this current time. Fredi Cooper is a retired rabbi, teacher, therapist, mother, wife and friend, and mentor. Her passion both inside and outside of the Jewish world is cooking. Irene McHenry is a licensed psychologist in private practice, a consultant, teacher, author, school founder, wife, mother, grandmother, and lover of nature.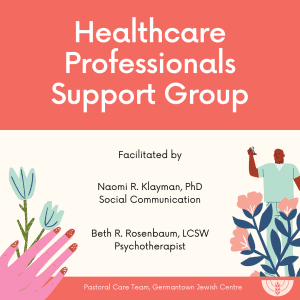 Healthcare Professionals Support Group
Currently on hold. If you are interested in joining the group when it becomes active again, please reach out to Naomi Klayman (research@naomiklayman.com) or Beth Rosenbaum (batyarr@gmail.com).
Facilitated by Naomi R. Klayman, PhD, Social Communication and Beth R. Rosenbaum, LCSW, Psychotherapist
Healthcare Professional includes anyone who provides direct care or facilitates access to care for patients and their caregivers. The goal will be to provide you with a few moments to take a deep breath and unload some of your stress among peers who appreciate the burden you are carrying. Beth Rosenbaum, MSW, LCSW is a Clinical Social Worker with over 30 years experience as a psychotherapist, working with individuals, couples, families, and groups. Naomi R. Klayman, PhD is a consultant in social communication. Her career consulting to pharmaceutical and healthcare companies included conducting thousands of one-on-one interviews and focus groups with healthcare professionals, patients, and caregivers.

Caring for Our Parents, Caring for Ourselves – currently on hiatus
Facilitated by Linda Hahn and Rabbi Dayle Friedman
A supportive setting for participants to express, explore, better understand, and gain more perspective on the feelings and reactions around care and responsibility for aging parents. We gather now, in light of increased stress due to the added health risks and increased isolation caused by the pandemic. Each session will cover a specific topic with ample opportunity for individual participation and group interaction. Linda Hahn, MSW, has had a life-long career in the delivery of clinical social services with many years working in senior centers and with caregivers of the ill and elderly.  In her retirement, Linda trained as a chaplain and is currently working in the Pastoral Care Department as a volunteer at Jefferson Hospital. Rabbi Dayle Friedman, MSW, MA, BCC, is a chaplain, spiritual guide and scholar, with a primary focus on aging. 
Calls to Congregants:  Interested in helping to make check-in calls to fellow congregants? Please contact Beth Janus: bannejanus@me.com. 
End of Life Care:  Our clergy are joined by volunteer members (some of whom are, themselves, clergy) to provide end of life support to our community. If you are interested in learning more or offering this type of support, please contact Marsha Friedman: rabdoc@aol.com.
Pastoral Care Team Captains:  We are so grateful for the incredible support from our team captains. Their diligence, care, and thoughtfulness helped us launch this team midst the COVID-19 pandemic and provide an invaluable asset to our community.